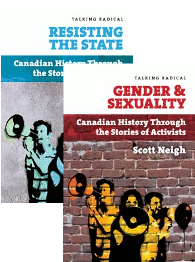 In Gender and Sexuality: Canadian History Through the Stories of Activists and Resisting the State: Canadian History Through the Stories of Activists, long-time participants in a wide range of social movements in Canada tell their own stories. The books use these activists' words to enter a wider sweep of history, while also presenting new, critical ways of understanding Canada, ourselves, and our movements.
If you think movements matter, these books are for you — whether you approach them solely with an interest in understanding how the struggles of the past created the Canada of today, or whether you want to learn from movement elders as you build the struggles that will shape tomorrow.
Long-time feminist, organizer, and radical scholar Roxanne Dunbar-Ortiz has described these books as "a treasure that provides a portal to Canadian history, bringing it alive and urgent through the voices and profound insights of veteran social justice activsts, an indispensible guide for present and future generations to carry on these struggles."
Union economist and peace activist Jim Stanford has said, "Never doubt that a few committed people can change Canada (and the world) for the better. Scott Neigh's oral histories show not only the power of committed idealism, but also how the history of our whole country has been shaped in large part by brave Canadians who refuse to accept the misery and injustice that surrounds us. Read these books to learn how the history of social change organizing is indeed the history of Canada – and then go out and start making your own history."
Check out what other people have had to say, as well as some articles and reviews!
Project Details
The project that lead to these books had several beginnings. One was the anecdote with which I open the books — my encounter, on a labour council-sponsored bus heading to the St. Catherine's Day of Action, with a long-time activist, which so powerfully inspired me with a sense of connection between present and past, individual and social, action by ordinary people and changing the world. Another was the oral history interviews a friend and I did to produce a cd to accompany a showing of political cartoons in the Art Gallery of Hamilton, particularly the interview with long-time trade unionist, labour cartoonist, and brilliant storyteller Roy Carless. Yet another was the interview (used in Resisting the State) with Isabel and Frank Showler that a couple of friends and I did just because we thought it was a good idea, even though we had no idea at the time what we might use it for. Not long after, I made the leap to turning such interviews into a major, sustained project. Yet even then there were further beginnings, as it took several long cycles of work, evaluation, and re-work to reach something like the books that ultimately resulted.
Over four years, I conducted forty-seven interviews with a total of fifty people, in eight cities, in six provinces and one territory. Fifteen of those interviews are used as the basis of Gender and Sexuality: Canadian History Through the Stories of Activists and Resisting the State: Canadian History Through the Stories of Activists. All of the interview participants have been active in social movements for at least twenty years, with at least some of that time in Canada. Beyond that, though, it is a very diverse group — they have been active in a wide range of physical locations, in several different eras, and in quite a number of different movements. Though all perspectives from within social movements seeking justice and liberation tend to be distorted, ignored, and marginalized, that is particularly true of indigenous women and men, women and men of colour, white women, and gay, lesbian, bi, and trans people of all racial backgrounds. While I have only touched the surface of stories and voices that should be central to history from below in northern Turtle Island, I have tried, with both successes and limitations, to be conscious of and work against those exclusions.
The material is presented not as traditional oral history, but rather using the words of the participants as entry points for social movement and Canadian history. Each chapter is built around one or two interviews, but it also includes plenty of historical context and a few new, relevant ideas presented in my voice. The central themes of each volume — gender and sexuality for one, resisting the state for the other — are understood deliberately broadly, and a number of the chapters could easily have fit in either one.
On this site, you can find out lots more about the books as well as plenty of other material. Along with access to the ten years of content from Talking Radical Radio, the main focus of the Talking Radical project between 2013 and 2023, you can also learn more about me, Scott Neigh, and find your way to my author site.