[audio:http://feeds.soundcloud.com/stream/309854205-scott-neigh-talking-radical-trr-ep-149-jan-202016-social-movements-and-how-they-make-learn-and-teach-ideas.mp3]
On this episode of Talking Radical Radio (which was originally broadcast and posted in the week of January 18, 2016), Scott Neigh speaks with Aziz Choudry, a long-time activist, a scholar of social movements, and the author of the new book Learning Activism: The Intellectual Life of Contemporary Social Movements.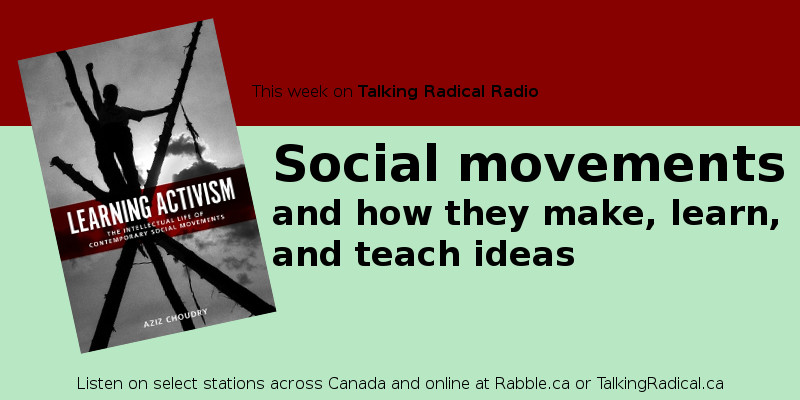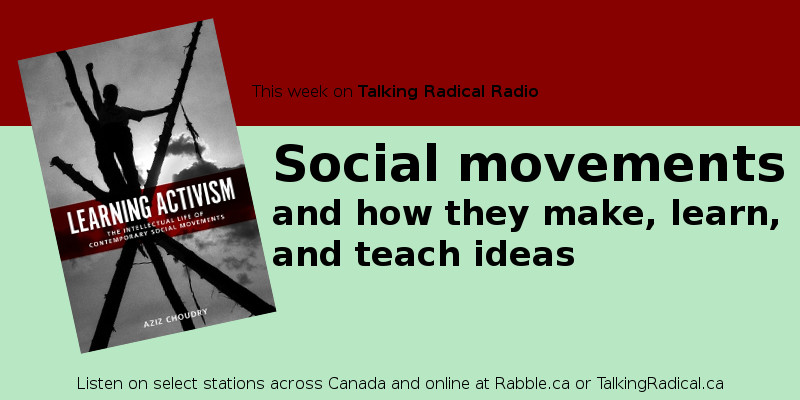 When we think about social movements, often what we think about is action — petitions signed, banners unfurled, meetings disrupted, strikes waged, land reclaimed, and so on. When we think about knowledge, teaching, learning, and research — about the various components of knowledge production and circulation, and of intellectual life — we aren't likely to automatically jump to thinking about movements, and certainly for most of us they won't bring to mind sit-ins or marches or blockades or anything like that. But today's guest argues that all of those things do go together.
Aziz Choudry has been involved in social movements for around thirty years. Though he grew up in England, his political involvement began when he lived in Aotearoa/New Zealand in the context of struggles that would later be given labels like "anti-globalization" and "global justice," particularly in parts of that movement that were shaped early and strongly by anti-colonial influences. Choudry's involvement has continued ever since, in a range of movements and places, and much more recently he decided to take his politics into the academy. He is currently an Associate Professor in the Department of Integrated Studies in Education at McGill University in Montreal, and a Visiting Professor at the University of Johannesburg in South Africa.
In Learning Activism, Choudry discusses in detail how doing research, teaching people, learning things, and collectively articulating new ideas about the world are absolutely integral to social movements and the actions that they take. Unlike a lot of scholarly work about movements, this is a book firmly grounded in the needs of movements themselves, and it strongly articulates the importance of learning from movements and movement participants not just about their experiences, not just about their actions, but about their analysis — their ideas, their knowledge, their theory — of the social world.
He talks with me about his own involvement in activism and organizing, about his new book, and about the ways in which teaching, learning, research, and the production of new ideas are woven tightly through the everyday activities of social movements.
To learn more about Learning Activism: The Intellectual Life of Contemporary Social Movements, click here.
Talking Radical Radio brings you grassroots voices from across Canada. We give you the chance to hear many different people that are facing many different struggles talk about what they do, why they do it, and how they do it, in the belief that such listening is a crucial step in strengthening all of our efforts to change the world. To learn more about the show in general, visit its website here. You can learn about suggesting topics for future shows here.
Talking Radical Radio is brought to you by Scott Neigh, a writer, media producer, and activist based in Hamilton (formerly Sudbury), Ontario, and the author of two books examining Canadian history through the stories of activists.
Like this podcast? rabble is reader-supported journalism.