Every community, every workplace, and every individual life in Canada owes some of their current shape to long histories of struggle. And the lives we live tomorrow, next year, and in seven generations will be shaped by the struggles going on today.
All of our lives contain moments of refusal and resistance to the oppressive social relations in which we are immersed, but taking those moments in our individual lives and weaving them into collective efforts to create change is no easy task. Yet it is also absolutely necessary to build the collective "we" — or, more likely, the multiple "we's" — that might be able to win the struggles necessary to carry us towards a world that is just and where all of us can thrive. And one crucial aspect of that work is learning what those who have come before us, and also those who are in different places and who face different struggles than us, have already been doing. Only with such listening will we be able to better understand the world and each other; only in so doing will we find ways to link our disparate struggles together in ways that make all of us stronger.
Talking Radical is a multifaceted project grounded in grassroots voices from across Canada and aimed at people who think movements matter.
T

alking Radical Radio — This show, each episode of which features one in-depth interview, gives you the chance to hear many different people that are facing many different struggles from all across Canada talk about what they do, why they do it, and how they do it. You can listen over the airwaves in half a dozen communities and online at Rabble.ca. Check out the latest episodes:


HungryFEED can't get feed. Don't be mad at HungryFEED. SimplePie reported: A feed could not be found at http://feeds.feedburner.com/rabble-podcast-network/TalkingRadicalRadio. A feed with an invalid mime type may fall victim to this error, or SimplePie was unable to auto-discover it.. Use force_feed() if you are certain this URL is a real feed.
The Books — In Gender and Sexuality: Canadian History Through the Stories of Activists and Resisting the State: Canadian History Through the Stories of Activists (Fernwood Publishing, 2012), the focus on the words of participants themselves provides an entry into history that is accessible and engaging, while generous use of historical context and challenging ideas allow readers to see these single lives a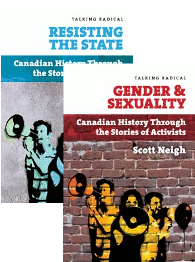 s parts of larger patterns. Inquiring minds trying to understand the world and active people trying to change it will be able to use these books to catch glimpses of the struggles that shaped the Canada of today and to inform their choices as we all make the Canada of tomorrow. These books are also ideal for use in classrooms focused on social movements, on the struggles of oppressed and marginalized groups, and on critical understandings of the Canadian nation and state — check out the supplementary audio material associated with each chapter that can be used in classroom settings, and the additional written excerpts from material not used in the books, as well as what people have been saying about the books. And then learn how to buy them.