Every community, every workplace, and every individual life in Canada owes some of their current shape to long histories of struggle by ordinary people. And the lives we live tomorrow, next year, and in seven generations will be shaped by the struggles going on today.
Talking Radical is a multifaceted project grounded in grassroots voices from across Canada and aimed at people who think movements matter. It is, at the moment, two books of history-from-below based on oral history interviews with long-time activists and organizers from a wide range of social movements and communities-in-struggle in the Canadian context, and it is a weekly radio show that features in-depth interviews with people engaged in many different kinds of social change work across Canada today.
T

alking Radical Radio — This show's in-depth interviews give you the chance to hear many different people that are facing many different struggles from all across Canada talk about what they do, why they do it, and how they do it. You can listen over the airwaves in a number of different communities and online at Rabble.ca. Check out the latest episodes:


Posted: August 14, 2018, 12:39 pm

Posted: August 7, 2018, 1:08 pm

Posted: July 31, 2018, 1:17 pm
The Books — In Gender and Sexuality: Canadian History Through the Stories of Activists and Resisting the State: Canadian History Through the Stories of Activists (Fernwood Publishing, 2012), the focus on the words of participants themselves provides an entry into history that is accessible and engaging, while generous use of historical context and challenging ideas allow readers to see these single lives a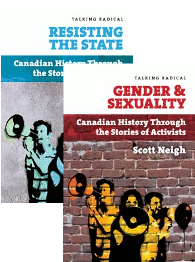 s parts of larger patterns. Inquiring minds trying to understand the world and active people trying to change it will be able to use these books to catch glimpses of the struggles that shaped the Canada of today and to inform their choices as we all make the Canada of tomorrow. These books are also ideal for use in classrooms focused on social movements, on the struggles of oppressed and marginalized groups, and on critical understandings of the Canadian nation and state — check out the supplementary audio material associated with each chapter that can be used in classroom settings, and the additional written excerpts from material not used in the books, as well as what people have been saying about the books. And then learn how to buy them.