On this week's episode of Talking Radical Radio, I speak with Akua Benjamin and Rinaldo Walcott. They are prominent activists and scholars, and founders of the Anti-Black Racism Network in Toronto.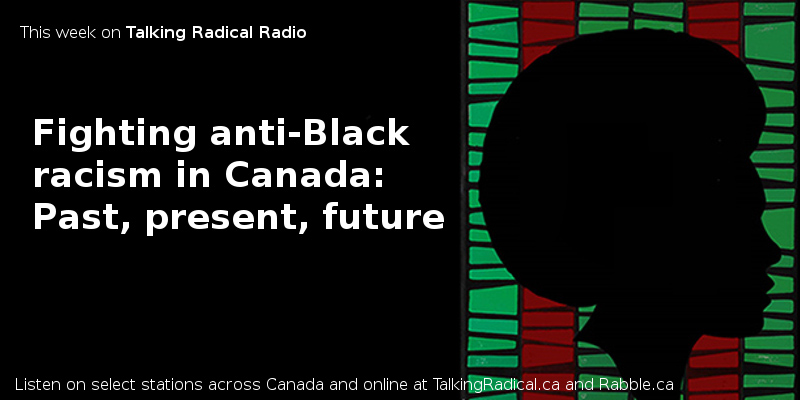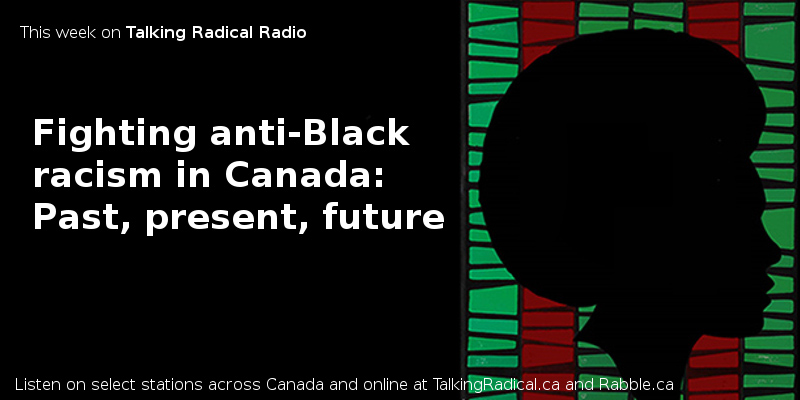 Today's guests point to a consistent pattern over the last 50 or 60 years of history in Canada: On the one hand, Black people and Black communities have, over that time, been deeply inolved in and often at the forefront of a wide range of struggles for justice, for human rights, for freedom, for thriving. On the other hand, it has been almost invariable, even in the context of generalized anti-racist organizing, that when those struggles win something — some enhanced rights, some resources going to meet a need — Black people and Black communities specifically get left behind. There's a longer trajectory to this, and it connects to ways of thinking about the different histories and different social logics underlying different forms of of racism, but the bottom line is this: there is something specific about anti-Black racism that needs to be named and needs to be resisted.
Akua Benjamin has been involved in community struggles in Toronto since the late 1960s and is a professor in the School of Social Work at Ryerson University. Rinaldo Walcott is both the Director of the Women and Gender Studies Institute and a member of the Department of Social Justice Education of the Ontario Institute for Studies in Education, both at the University of Toronto. A couple of years ago, they were having lunch, talking about the problems facing Black communities in Toronto, and they decided the time was right to bring scholars, professionals, and community activists from Toronto's Black communities together, to collectively intervene in public debates and struggles. Thus the Anti-Black Racism Network was born.
The Network's first and most visible public involvement has been around the question of what is currently getting called "police carding" — the practice of police stopping people outside of the context of any specific investigation, taking their information, and putting it in a database. This practice has consistently been shown to disproportionately harm Black people, particularly young Black men, and it is the latest way of naming a long, long history in which Black people have been targeted by police harassment and violence in North America. The network has also begun to take up questions of the overrepresentation of Black children in the child welfare system, and they have plans to get active on a wide range of policy issues, from housing to health, from education to human rights, with a specific focus on naming and challenging anti-Blackness.
The Anti-Black Racism Network is also planning its first major conference, which will be happening at Ryerson University in Toronto on February 19 and 20. The themes for the event are community, resistance, and criminalization, and it will include the inaugural Akua Benjamin Public Lecture to commemorate 50 years of Black activism and resistance in Toronto and to honour a number of late Black leaders in those struggles.
Benjamin and Walcott talk with me about anti-Black racism, about the struggle against carding and other aspects of the Anti-Black Racism Network's work, about histories of resistance in Toronto, and about the upcoming conference.
To learn more about the Anti-Black Racism Network and about the conference that is happening later in February, click here.
Talking Radical Radio brings you grassroots voices from across Canada. We give you the chance to hear many different people that are facing many different struggles talk about what they do, why they do it, and how they do it, in the belief that such listening is a crucial step in strengthening all of our efforts to change the world. To learn more about the show in general, visit its website here. You can learn about suggesting topics for future shows here.
Talking Radical Radio is brought to you by Scott Neigh, a writer, media producer, and activist based in Hamilton (formerly Sudbury), Ontario, and the author of two books examining Canadian history through the stories of activists.