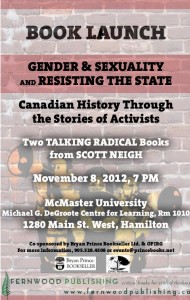 Date: November 8
Time: 7pm
Location: Room 1010, Michael G. DeGroote Centre for Learning (MDCL), McMaster University, 1280 Main Street West, Hamilton, Ontario
Join author and activist Scott Neigh for a talk and book signing as he launches two new books published by Fernwood Publishing: Gender and Sexuality: Canadian History Through the Stories of Activists and Resisting the State: Canadian History Through the Stories of Activists. Hear about some of the many struggles that have shaped the Canada of today, and talk about new ways of relating to the past as we struggle for a transformed tomorrow.
To learn more about the books and the project of which they are a part, and to read and hear excerpts from the interviews around which the books are organized, visit here. To find out about ways to purchase the books if you can't make it to the launch, click here.
From the book jackets:
We usually learn our history from the perspective of our rulers — from the top down. In these books we learn about our history from the perspectives of ordinary people — from the bottom up. Whatever liberty and justice that communities, workplaces and individuals in Canada enjoy are due to the many struggles and social movements in our country's history. Yet the stories and histories of those movements to overcome racism, sexism, and poverty, for example, remain largely untold, thanks to the single, simplistic national story taught to us in school. Deftly combining history with accounts from participants in social movements, Neigh introduces us to the untold histories of activists, histories that encourage all of us to engage in struggles that will shape our shared tomorrow.
Gender and Sexuality unearths a diverse spectrum of struggle through the accounts of longstanding social movement participants. From indigenous women working against colonization and Christian women trying to end sexism and homophobia in their churches, to gay men opposing sexual oppression and women fighting against hostile employers and violence, this book reveals the ways that oppressions based on gender and sexuality — and the struggles against them — have shaped our society.
In Resisting the State, Neigh details the histories of a broad range of social movements and provides readers with a richer understanding of the Canadian state and why so many people — including military draftees, welfare recipients, workers, indigenous people, psychiatric survivors, immigrants and refugees — have struggled, and continue to struggle, for equality and justice for all members of society.
What people are saying about Gender and Sexuality and Resisting the State:
"Never doubt that a few committed people can change Canada (and the world) for the better. Scott Neigh's oral histories show not only the power of committed idealism, but also how the history of our whole country has been shaped by brave Canadians who refuse to accept the misery and injustice that surrounds us. Read these books to learn how the history of social change organizing is indeed the history of Canada — and then go out and start making your own history." — Jim Stanford, union economist and peace activist
"This work is a treasure that provides a portal to Canadian history, bringing it alive and urgent through the voices and profound insights of veteran social justice activists, an indispensable guide for present and future generations to carry on these struggles." — Roxanne Dunbar-Ortiz, veteran activist and author
And even more.
Scott Neigh is a writer, parent, and activist currently based in Sudbury, Ontario. He lived in Hamilton, Ontario, from 1993 until 2004, where he was active in student, anti-poverty, anti-racism, environmental, and other social justice organizing, including as a board member of OPIRG McMaster. He blogs regularly on political topics at A Canadian Lefty in Occupied Land. You can learn more about these books and the project of which they are a part at the Talking Radical site, and more about Scott here.
This event is sponsored by OPIRG McMaster, Bryan Prince Bookseller, and Fernwood Publishing.